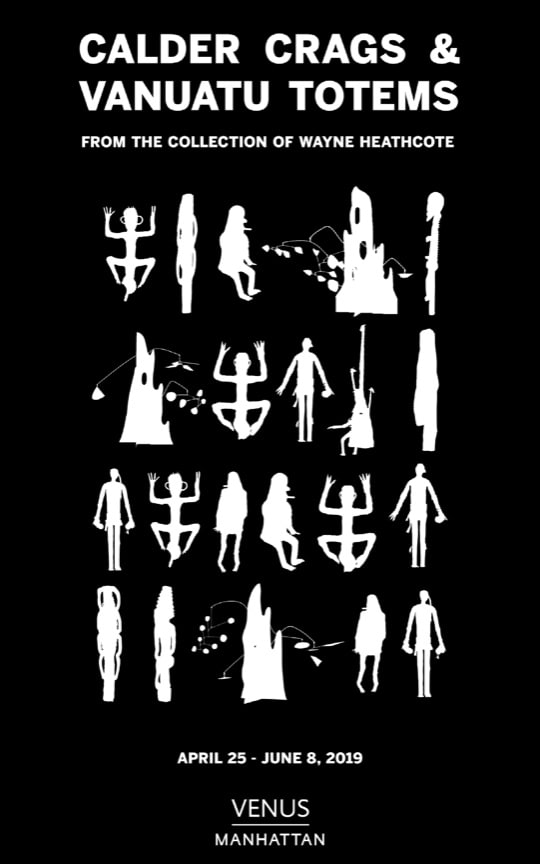 Venus over Manhattan Gallery, New York
www.venusovermanhattan.com
Bernard de Grunne is pleased to announce the exhibition "Calder Crags + Vanuatu Totems from the Collection of Wayne Heathcote", curated in collaboration with Adam Lindemann at his gallery Venus over Manhattan, New York.
More info on Venus over Manhattan Gallery's website
An exclusive group of twenty two Vanuatu figures from the Ambrym, Banks, and Malekula Islands is presented alongside a suite of large-scale standing mobiles called "crags" by Alexander Calder from the 1970s. This exhibition is historic as it is the largest corpus of Vanuatu figures ever assembled after the ground-breaking show of sixteen Vanuatu figures at the gallery Jeanne Bucher in Paris in 1961.
The show opened on April 25 and runs until June 8, and it is already a great success as important collectors and intstitutions showed up to view this unique collection built by Wayne Heathcote, from works collected in the early 1970's through Nicolai Michoutouchkine, founder of Museum of oceanic Art in Port Vila, Vanuatu.
The core of the group comprises two sets of towering fern figures, while the larger group represents a formal approach unique to Ambrym Island. The second group features Bank Islands figures, presenting a more geometric approach to figuration. A third group of smaller objects represent figuration from Malekula, the archipelago's second largest island.

The "Grade" system is a hierarchical structure within the Vanuatu societies through which members of a community advance their status or rank. The three sets of figures represent ritualized offerings that permit entry to successively higher grades. Carved from the fibrous trunk of the fern tree, these figures function as temporary homes for spirits associated with specific grades, represent uniquely figurative approaches to sculptural form.
The circulation of ethnographic objects across Europe and North America impacted the international avant-garde, particularly the Surrealists, and at certain point in his career, Alexander Calder's works hint at formal resemblance to a number of these objects. In the spirit of such juxtapositions, the presentation will provide an unprecedented context putting together ancient sculptures and modern art.